Grills, Barbecues, Outdoor Kitchens, & Fire Effects
There is probably nothing more fun, or argued about, in our stores than barbecues. Charcoal vs. gas, low and slow vs. searing a steak at 800° F, everyone has their ideas and belief system regarding cooking outdoors.
No matter what you subscribe to, we have the equipment to get the job
done. We have everything from the perfect little gas grill for your weekend getaway to the most elaborate outdoor kitchen and entertainment rooms.
We aren't going to argue the charcoal v. gas v. pellet v. electric case.
We're going to explore portable grills versus built-in grills and islands as a starting point.

Portable Grills
Portable grills used to be pretty simple. They were not much more than the grill head on 3 – 4 post-style legs with wheels. Not so anymore. We have grills on post carts, cabinet carts, huge grills that really stretch the definition of portable.

Built-in Grills
Built-in grills and barbecues provide a permanent place for entertainment. They add considerable value to a home and are one of the most desired features to home buyers.

Outdoor Kitchens
Outdoor living areas are one of the fastest growing segments of our industry. Providing a comfortable place to bring friends and family together while enjoying the ample space outdoors is a priority for many homeowners.

Outdoor Fire Effects
Fire pits, linear fire pits, fire walls, torches, the list goes on forever.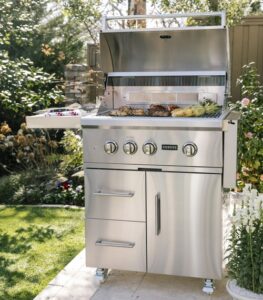 Portable Grills
The main advantage anymore to having wheels on your grill isn't so much taking it from place to place, but for turning it so it faces the way you want it to. Being able to turn the chef's back to the wind so smoke isn't an issue makes grilling considerably more comfortable.
With the addition of the storage and accessory options available with portable grills, they are still the most popular choice among shoppers.
Our selection of portable grills has been finely tuned over the past 15 years. Darin (DJ) Bricker has personally selected each of the grills we represent for being the top value in their respective class.
One of the critical functions of all of our appliances is to be versatile. We simply do not carry one-trick-ponies. All of our cooking appliances will grill, bake, broil, smoke, slow-cook and do any other method of cooking – and do it well. We don't want our clients to have to have 4 appliances on their patio in order to answer to the call of the flame.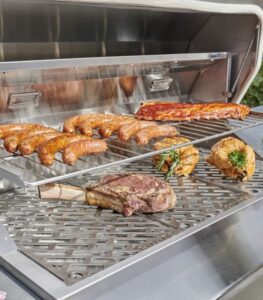 Built-in Grills
Built-in grills come in an unlimited array of styles with various features and creature comforts. A simple post-mounted grill will offer the least expensive option and take up the least amount of space. Enclosing a grill in a cabinet can add storage, serving space, and much more.
Some things to keep in mind while seeking grills to build in:
All grills require a considerable amount of space for things that burn or melt, like wood and siding. Plan your placement carefully.

Most grills that are designed to be portable, have no way to be safely enclosed in an island due to the lack of airflow.

Most grills cannot be built into a wood frame and must be surrounded by at least 30″ of non-combustible material.

Trapped heat inside these enclosures leads to a much higher risk of a grease fire. Don't guess when it comes to design.

Grills should never be located undercover, without heat protection and a hood to remove smoke and fumes.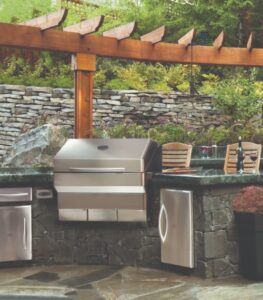 Outdoor Kitchens
We provide everything from full kitchens, to bars and beer taps, to heating and cooling, to firepits, and more. Your imagination is the only limitation to what we can help you design and build.
We have spent years doing research to find the absolute best values available in outdoor living. We have weeded out the suppliers using subpar materials and design because often it is impossible to change out a grill, refrigerator, ice maker, or accessory drawer after it has been built in. At the very least, it is extremely impractical. Outdoor equipment isn't like indoor equipment with its standardized sizes. Every brand and component are unique and not interchangeable, so it is critical to not only get what you want the first time but make sure it will last against the harsh elements.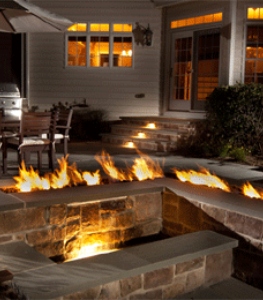 Outdoor Fire Effects
We will set nearly anything on fire, and we will also make the flames as big as you can afford the gas.
Fire pits, linear fire pits, fire walls, torches, the list goes on forever.
There are really only two things you need to know about fire effects.
Fire pits require some way to drain water and a cover for when they aren't in use.
There are two types of controls for flame effects. Electronic ignition with a safety valve. (Referred to as the 'correct way' by most.) 2.) Throw a match and hope for the best. (Also called 'manual ignition' by some.)
'Manual ignition' means there is nothing to keep someone from turning the gas on without being ready to light the fire. There is no safety to shut off the gas if the fire blows out. Sounds exciting, huh?
INCREASE YOUR OUTDOOR LUXURY WITH THE ADDITION OF A PORTABLE GRILL, BUILT-IN GRILL, OR AN OUTDOOR KITCHEN.